McFly bids farewell to Olympic with Rhyl concert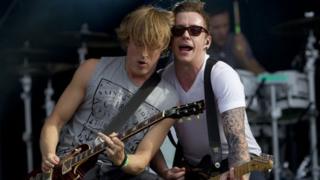 Pop band McFly are headlining a concert in Rhyl, Denbighshire, to coincide with the Olympic Games' closing ceremony.
The show at the Rhyl Events Arena hosts other acts, including the punk and dance group Dive Bella Dive.
The 8,000 seater arena opened its doors at 14:30 BST and was screening the closing ceremony from London.
It comes after the Access All Eirias concert in Colwyn Bay screened the opening ceremony two weeks ago.
A spectacular closing ceremony starts from 21:00 BST.
After 16 days of competition at the Olympic Park and Cardiff, London will hand over to 2016 host city Rio de Janeiro in what promises to be a stunning show involving 3,500 performers in the stadium.
Artistic director Kim Gavin said the ceremony would be "the best after-show party of all time".