Tiger Moth crash: Woman sees plane hit ground in Eryrys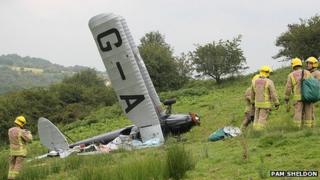 A woman has described how she watched horrified as a bi-plane crashed in a field at the spot where her mother had been standing moments earlier.
Pam Sheldon did not have a clear view when it hit the ground, but ran to the scene to find both her mother Marilyn Sheldon and the pilot unhurt.
The 1930s design Tiger Moth clipped a tree and flipped over before hitting the ground at Eryrys, Denbighshire, on Sunday afternoon.
The plane was badly damaged.
"I was taking pictures of the plane coming in to land when it happened, but I didn't have a clear view when it hit the ground.
"I was so relieved when I ran over to see that my mum and the pilot were both OK," she said.
Miss Sheldon, who lives at her grandmother's smallholding, said she had spoken to the pilot earlier when he called to inquire about landing the plane in a neighbour's field.
"I'm very keen on photography so I asked him if I could take some photos when he brought the plane in.
"Unfortunately, he overshot our neighbour's land and came down in our field.
Her mother was in the field when it happened and just minutes before she had been standing at the exact spot where he crash landed.
Power lines
She said: "He was very lucky. He just climbed out unhurt and was very calm about it all.
"I was further downfield, but I saw the plane clip a tree and flip over. It was the third time he had flown round.
"I didn't have a clear view when it hit the ground, so when I heard the crash I was really scared of what might have happened. Thankfully, no-one was hurt."
Emergency services were called to the incident at about 14:45 BST but there was no fire.
"The pilot managed to turn everything off before he got out.
"The plane is badly damaged, but the pilot said he'd be getting an engineer to take a look at it."
She said the pilot, who was believed to be on holiday in the area, had flown the plane from a field at nearby Llandegla.