Hawarden Airport: Scheduled flight plan at £1m terminal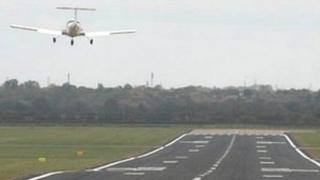 Scheduled passenger flights could return to Chester Hawarden airport in Flintshire next year when work is completed on a £1m terminal.
The airport is next to the Airbus wings factory in Broughton and currently manages business and private flights.
The company which runs the 50-acre site is aiming to attract interest from airlines using aircraft up to 50 seats.
It envisages flights across the UK, including Cardiff and possibly as far as Italy and Spain.
Caroline Craft, managing director of the Aviation Park Group, which owns Chester Hawarden Airport, said: "We're not talking to anyone at the moment.
"But we're hoping to get interest from smaller aircraft operators who want to run services to places such as Scotland and the Isle of Man as well as England and possibly Spain, France or Italy.
"This would not be on a big scale - it would be a limited number of flights, one or two a day."
Some opponents to the plan told the Leader newspaper due to concerns about noise.
But the company has already said it was "sensitive to noise" so it was not looking for a "large operation".