Ruthin's 'Yellow Brick Road' markings to be repainted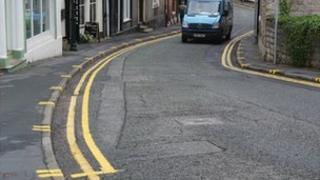 Yellow pavement markings which prompted anger from residents, who likened them to the Wizard of Oz's Yellow Brick Road, are to be toned down.
Workmen are to remove many of the "no loading" markings in the historic town of Ruthin and will repaint double yellow lines "narrower and paler".
Residents of the town claim "people power" prompted the action.
Denbighshire council said it held a review after a "number of negative comments".
A council spokesperson said: "As a result of the review, remedial work will be undertaken immediately to remove many of the kerb markings and to replace the double yellow lines with a narrower and paler version."
The council said it had liaised with county councillors and listened to the concerns of residents and businesses before agreeing a "scheme which is in keeping with the needs of the historic town".
The markings prompted an angry reaction from some of the town's residents, leading to a petition and criticism on social networking site Facebook earlier in August.