Connah's Quay docks: Dee festival marks regeneration bid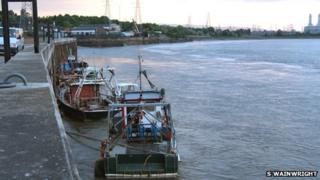 Fishermen are hoping to open a heritage centre in the next phase of a revival of a Flintshire docks.
They have reopened a slipway at Connah's Quay to allow boats access to the Dee estuary and have just signed a lease with the council to maintain it.
Now they are planning a festival later this month with pleasure boat trips, as ferries once operated across the Dee.
They hope to use the event to gain more support for the plans to regenerate the docks and celebrate their importance.
Fisherman set up the Quay Waterman's Association (QWA) in 2010 to try to reopen the slipway, giving access to the Dee from Connah's Quay Dock Road.
The group's ambition is to increase the use of the docks, as well as reflecting the part the port played in Deeside's history, having this week signed a 25-year lease with Flintshire council.
The QWA has also become a social enterprise company which is not for profit and can bid for funding.
They want to reopen the closed former sea cadets' building for community groups as well as a heritage centre.
"We have a treasure here and we need to start using it," said Keith Marland, chair of QWA.
Connah's Quay's port has a history spanning 500 years, but its demise came in the 1960s and the slipway access to the Dee was eventually lost.
But the QWA group was spurred into action following the restoration of nearby Green field docks in 2010.
Dock Road marks one of the first stopping off points along the 870 mile (1400km) All Wales Coast Path after leaving the English border at Chester.
The QWA hopes to sign a lease with the former cadets' building owners, Flintshire council, to renovate it as a community centre and heritage centre.
Britain's last three-masted topsail schooner, known as the Kathleen and May, was built at the docks in 1900 and became famous in the 1970s BBC TV drama The Onedin Line.
It is currently docked at Liverpool.
Mr Marland said members are organising the River Dee Festival on 23 September to show the wider community their plans at the docks.
The family fun day includes short boat trips along the Dee beneath towering Flintshire Bridge which straddles the estuary next to Connah's Quay Power Station.
A ferry service called Queen's Ferry operated at nearby Queensferry in the late 1800s.