Rhyl Skytower may still have a future but not as a ride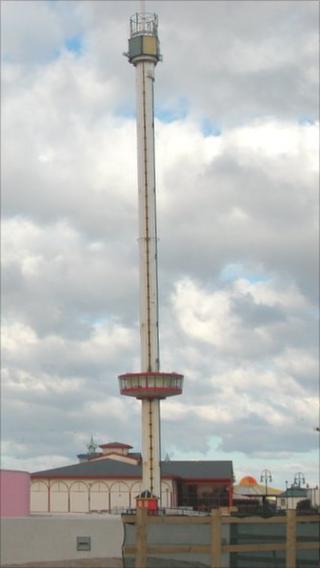 Rhyl's landmark Skytower could still have a future after a report recommended it should remain in place but not operate as a ride again.
The 73m (240ft) tall tower on the promenade was last used at the end of the 2010 summer season.
Doubts first surfaced earlier this year when a safety report found £400,000 of repairs were needed.
Denbighshire council's communities scrutiny committee will discuss options on Thursday.
The Skytower, which charged £2 a ride, was brought to Rhyl from Glasgow in 1993
It had a rotating observation tower, but has seen a diminishing number of visitors and has lacked investment.
The company which ran the tourist attraction on behalf of Denbighshire council, Clwyd Leisure Limited, asked for the report after coming to the end of its 10-year lease.
It found that while costs to refurbish the tower was significant, it was structurally sound and probably has another 30 years life.
Now councillors have three options to consider what they do next:
The ride could be refurbished and re-instated
The tower could be dismantled
It could be given a new use.
Rhyl Going Forward (RGF) programme manager Tom Booty recommends the last option.
"The existing tower structure is sound, and as such there is an option to retain the tower but accept that it will never operate as a ride again," he said.
All equipment associated with the ride, such as the observation gondola, would be removed but the main tower structure would remain.
"The cost of this is estimated to be in the region of £30,000, although this would need to be confirmed through a full external survey," said Mr Booty.
"Alternative uses for the tower could then be explored, and options here could be to seek sponsorship, as per Morecambe's Polo Tower or using the tower as a site for a public art installation."
Denbighshire council's cabinet is due to make the final decision on 23 October.