Ysbyty Glan Clwyd cash machine theft: Philip Lowe jail cut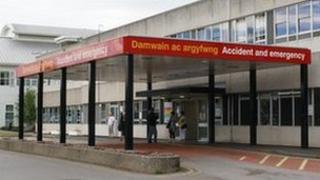 A man jailed for his part in the theft of a hospital cash machine with nearly £49,000 in it has had his sentence cut.
Philip Lowe, 26, of Liverpool, admitted stealing the machine from Ysbyty Glan Clwyd, Denbighshire, in December 2010.
He had been sentenced to six years and six months in jail at Caernarfon Crown Court in April.
Three judges at the Appeal Court in London decided on Friday to reduce what they called a "manifestly excessive" sentence to four-and-a-half years.
Lowe was part of a gang which targeted the cash machine, which was in a corridor next to the maternity ward at Ysbyty Glan Clwyd.
They arrived in three cars, including two with false number plates, and carrying a range of tools.
Chains were used to lock themselves into the corridor where the machine was, preventing any security staff from interrupting them in the act.
They then levered the machine from its securing bolts, loaded it onto a trolley and wheeled it outside to a waiting vehicle.
Guilty plea
Patrolling police spotted them and a chase at speeds of up to 130mph followed before the car, which belonged to Lowe, was eventually abandoned.
One member of the gang was found hiding nearby, but Lowe escaped, called an associate to come from Liverpool to pick him up and then made up a story about his car having been stolen.
Lowe had pleaded guilty to theft and perverting the course of justice.
At the appeal on Friday, his lawyers argued that the six-year term he was given for the theft - on top of six months for the lies he told about his car being stolen - was too long.
The judges were reminded that the maximum sentence for theft was seven years and that Lowe had been entitled to a reduction in his sentence for pleading guilty.
Giving his judgment, Mr Justice Holroyde, sitting with Lord Justice Pill and Mr Justice Flaux, agreed that the six-year term was "manifestly excessive" and said it would be cut to four years.
With the six-month term for perverting the course of justice to run consecutively, the total sentence after the appeal would be four-and-a-half years, he said.
A second man - Carl Cavanagh, also from Liverpool - had been jailed for five years for the theft and another year for receiving a stolen Transit van when he was already on bail.