Wrexham freedom for Olympic gold medallist Tom James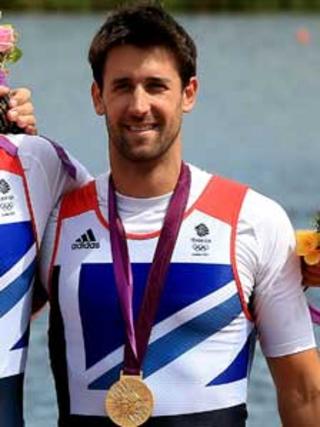 Double Olympic gold medallist Tom James is to be granted the freedom of Wrexham borough in recognition of his achievement at the London 2012 and Beijing 2008 Games.
Rower James, 28, struck gold in the men's coxless fours race at both Games.
The freedom will be presented at a special council meeting next Friday.
Wrexham's two other athletes, rower Chris Bartley, who won silver and rower Victoria Thornley will be honoured at the meeting.
"All of this has happened so quickly in such a short space of time," said James. "I think it is going to take a while for everything to sink in and to appreciate exactly what it means.
"I'm very grateful and I feel really lucky and privileged to have been given freedom of the borough.
"To be honoured in this way is pretty special and I am grateful to everyone involved."
He added: "This event feels extra special because it is one of the final Olympic celebration events and it will cap off what has been a whirlwind past few months."
'Marvellous moments'
Neil Rogers, leader of Wrexham Council, said the three athletes have played their part in inspiring a generation, something the London Organising Committee hoped to achieve with the Olympic and Paralympic Games.
"They gave us some marvellous moments during London 2012 and I'm sure many of us will remember these particular games for many years to come," he said.
"It is, however, very fitting that Tom's achievement of two consecutive gold medals, Beijing in 2008 and now London 2012 receives some special recognition and I am delighted that he will be here to receive the freedom of the county borough on the 28th."
James becomes the 30th recipient of the award which dates back to 1906.
It was last handed out to an individual in 1978 to Trevor Lloyd Williams who was the council's first chief executive.
The freedom is the highest award any council can give an individual, group or organisation although it has no special privileges or rights.