Wrexham river deaths: Alicia Williams and David Platt drowned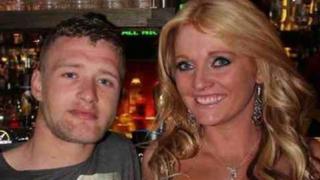 A couple who had been walking their dogs drowned after entering a swollen river in Wrexham, a coroner has heard.
Inquests were opened and adjourned into the deaths of David Platt and partner Alicia Williams, both 25, who lived together in Ruabon.
The pair were with their dogs near the swollen River Clywedog at Felin Puleston on Wednesday.
The results of post-mortem examinations were given to acting north east Wales coroner John Gittinsby.
Ms Williams' body was found at 18:40 BST on Wednesday and Mr Platt's body was found at 03:25 on Thursday.
Family say they are devastated by the deaths.
Mr Platt's uncle Peter Wright said his nephew had a "heart of gold" and would "do anything for anybody".
Asked what he knew about the incident, Mr Wright said: "Just what we've heard... that he's gone in for his dog, or she's gone in and vice versa perhaps."
He added: "My brother, his dad, is devastated, absolutely devastated."
Ms Williams leaves a young daughter.
"She loved animals. She'd do anything for them," said David Lloyd, who said he knew the dead woman when visited the scene on Thursday.
Ms Williams's body was found on Wednesday afternoon. Search teams found Mr Platt's body at about midnight.
'Huge distress'
Police said they had not found witnesses to confirm reports the pair had gone into the water to save a dog.
Det Chief Insp Mark Pierce, of North Wales Police, said the families of the couple were suffering a "huge amount of distress".
He said: "The two deaths are unexplained but the likely scenario is at the moment that there was unfortunately a tragic accident."
Local people said the Clywedog had risen by about 4ft (1.2m) since this week's torrential downpours began.
Emergency services were called just after 17:00 BST after a member of the public found Ms Williams' body.
Mr Platt is understood to have worked at a local farm building children's play pens.
"It's speculation to say whether or not the dogs have gone into the river and one or both of the couple have gone in to save the dogs," said Det Chief Insp Pierce. "We haven't got a witness to confirm that."
North Wales Police said anyone with information can call 101.