Moel Famau hosts £2.3m heather and hillforts project celebration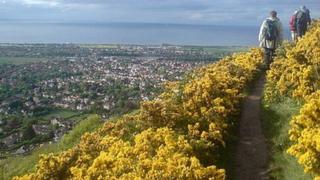 A weekend celebration is being held to mark the near-completion of a £2.3m conservation project to protect a north Wales beauty spot.
The money has been used to benefit the landscape, wildlife and heritage of the Clwydian Range and help its residents.
The area includes a chain of hills and Iron Age forts in Denbighshire and Flintshire and is an Area of Outstanding Natural Beauty (AONB).
The event includes the launch of a beer made from the range's purple heather.
Along with the Clwydian Range there are four other AONBs in Wales: at Anglesey, the Llyn Peninsula, Gower and the Wye Valley.
A total of £1.5m was given by the Heritage Lottery Fund to support work of the Heather and Hillforts project on the Clwydian Range from archaeology to preservation as well as conservation and education projects.
The Clwydian Range forms a 35km (21 mile) north-south chain of hills with Moel Famau in the centre.
The hills stretch from the Vale of Clwyd in the west to the foothills of the Dee Estuary to the east, and from Prestatyn Hillside in the north to the Nant y Garth pass in the south.
It is managed by a range of partners including local landowners and farmers as well as local councils, the Forestry Commission Wales and heritage groups.
The weekend event at Moel Famau will be hosted by staff from forestry commission and the Clwydian Range and Dee Valley AONB.
There will be activities and displays including livestock and bees as well as vintage vehicles from 10.30 to 15:30 BST.
Experts will be smelting copper using a process that would have been used thousands of years ago when the nearby hillforts would have been occupied.
A new beer produced by a local brewery using local ingredients, including heather, bilberry and honey is also being launched.
Councillor Carolyn Thomas, chair of the Clwydian Range and Dee Valley AONB, said: "Heather moorland is not only spectacular but also a functioning landscape which supplies us with a variety of products such as lamb, honey and once again beer."