Wrexham FC's plans for club shop and ticket office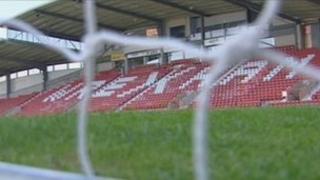 Wrexham FC have drawn up plans to redevelop their club shop and ticket office using money pledged by fans.
The club want to convert office space inside the stadium into a bigger retail shop area and improve the current ticket office.
The work will be paid for with some of the £120,000 raised in community shares by Wrexham Supporters Trust (WST).
Club director Don Bircham said the plans would improve the match day experience for supporters.
£10m overhaul
Wrexham Supporters Trust president Bryn Law said: "Our aim is to turn the club into a sustainable community-owned asset and this demonstrates our commitment to this cause."
The plans will see offices converted into a bigger club shop to double the amount of space.
The ticket office will remain in its location with existing administration offices relocated elsewhere within the stadium.
Proposals have been submitted to Wrexham council as part of the makeover.
Earlier this year, stadium owners Glyndwr University announced it wanted to push forward plans for a £10m overhaul of the Racecourse, which includes redeveloping the closed Kop terraces behind one of the goals.