Flintshire head teacher Wilkie 'struck off' after theft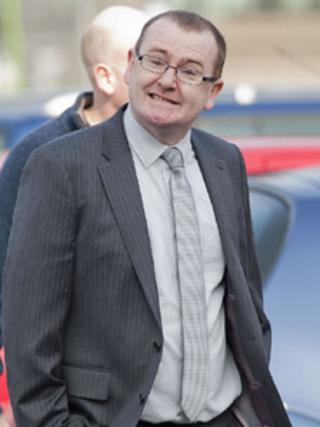 A head teacher who stole £53,000 from his school to fund a gambling addiction has been struck off the teaching register.
Andrew Thomas Wilkie, 41, was jailed for 16 months in March after admitting the thefts from Southdown Primary School in Buckley, Flintshire.
The General Teaching Council for Wales imposed an indefinite prohibition order on Wilkie on Thursday.
However, his teaching union called the decision "totally disproportionate".
Wilkie was jailed after it emerged he had stolen the cash from his school to fund an internet gambling addiction.
He had also spent £90,000 of his savings and £70,000 from remortgaging his house in a bid to recoup loses from playing online poker games.
He owned up to the thefts after a tip-off to the council prompted an emergency audit of the school's finances in October last year.
His court hearing at Mold Crown Court was told that the gambling addiction began after he had been suspended following unsubstantiated allegations involving a pupil.
'Home detention'
No action was taken and he was allowed to return to school, but had become depressed and turned to online gambling, the court was told.
At the teaching council hearing in Ewloe on Thursday, the committee chair, Jacquie Turnbull said: "We have concerns that the period of rehabilitation is insufficient to ensure Mr Wilkie would be able to comply with the code."
Striking Wilkie from the teaching register, the disciplinary committee said he could apply to be restored to it after two years.
The former head teacher is now under a "home detention curfew" after being released from prison after serving four months of the 16-month sentence.
The hearing was told he was attending Gamblers' Anonymous sessions to deal with his addiction issues.
However, the decision to remove him from the teaching register was criticised by his union representative, Colin Adkins, of the NASUWT.
"This is the first opportunity Mr Wilkie has had to account totally for his actions. This sanction in my mind is totally disproportionate to the acts," said Mr Adkins.
"In my view the GTCW have done the professional equivalent of slapping Mr Wilkie across the face and suggesting he should have pulled himself together at the time."