St Asaph floods: Tribute after Margaret Hughes found dead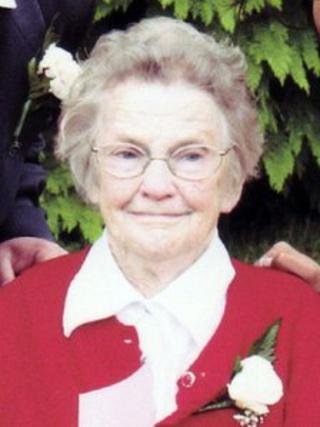 The family of a 91-year-old woman who died during flooding in St Asaph has described her as a loving grandmother.
Margaret Hughes, who had been due to celebrate her 92nd birthday on Thursday, was found in her flooded home in the city on Tuesday.
Her family said they were devastated by her unexpected death.
They described her as very active and "strong willed with a real sense of humour and fun", and said she had been looking forward to Christmas.
In a statement, her daughter, four grandsons and grand-daughter said she came from an "old stock" of Welsh farmers.
They said she was still taking long walks into her 80s, collecting firewood.
'So sad'
She spent most of her early life working on farms, initially in Cerrig, near Corwen and then St Asaph where she had farmed with her husband for 18 years.
Neighbour Mandy Williams said: "She was looking forward to going shopping for her birthday.
"She always had a lovely word to say to people. She used to go to the coffee mornings every Wednesday.
"It's very tragic, just so sad.
"I was with her poor daughter for two hours yesterday while she waited for news of her mother.
"When I heard what had happened, it was awful."