Ministers 'failing Remploy staff', says Ian Lucas MP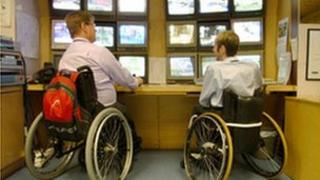 Workers from the closed Wrexham Remploy factory are being failed by the UK government, the town's MP said.
Labour MP Ian Lucas had called for cash raised from the sale of the plant to go towards helping redundant workers.
But he said the disability minister confirmed in a meeting with him on Wednesday money raised from the sale would go into UK government coffers.
The Department for Work and Pensions (DWP) said its priority was to safeguard jobs.
The Wrexham factory, which employed 40 people, is one of six closed this year in Wales, with others earmarked for closure.
Mr Lucas said: "The meeting [with Disability Minister Esther McVey] was not very productive for the workers I'm afraid.
"I did establish that the capital receipt from the sale of the site will be an additional receipt for the government."
He said the UK government wanted a "big fat cheque" from the sale of the factory to help the chancellor's finances.
"They don't seem to be offering any real support to Remploy workers at this time," he said.
Mr Lucas has also accused the UK government of deliberately thwarting takeover attempts.
But he said there was a chance some of the redundant workers may find jobs through Stoke-on-Trent-based Disability Employment.
He is exploring the possibility of the company buying equipment from the factory and starting operations on another Wrexham site.
He said Disability Employment was initially talking about taking on at least half of the former Wrexham workforce.
The DWP said it had been trying to encourage takeovers of Remploy businesses.
Interested parties
"The accusation by Mr Lucas that government is looking to fill its own pockets is simply not true," said a spokesperson.
"Our priority throughout this entire process has been to safeguard jobs, which is why we are offering a wage subsidy of up to £6,400 per disabled employee to encourage interested parties to come forward with bids to keep the Remploy businesses going.
"Decisions to accept or reject proposals to take over the running of businesses are for the Remploy board to make, and they have been working with independent experts to look into the viability of each bid."
Mr Lucas said the £6,400 being offered was no longer available in Wrexham because the subsidy only applied if the business was taken over as a going concern.
Last week, it was announced that the last two Remploy factories in Wales, employing about 140 people, are at risk in another round of closures.
Workers at Baglan, Neath Porth Talbot, and Porth, Rhondda, have been told they face compulsory redundancy.