£1m Lottery winners Claire McManus and Scott Connah 'by accident'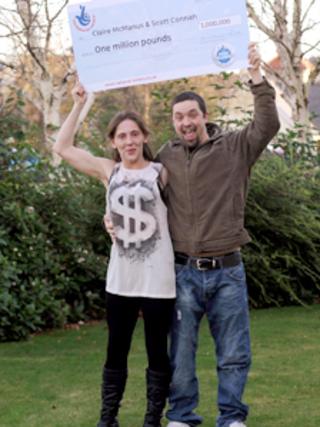 A couple from Flintshire are celebrating after scooping a £1m lottery prize following a lucky misunderstanding at the shop counter.
Claire McManus and Scott Connah, both 30, from Connah's Quay, won the money on the EuroMillions Millionaire Raffle draw on New Year's Day.
The couple, who have three young children, had asked a family friend to buy a scratchcard at the shop.
But the friend misunderstood and bought the winning raffle ticket by mistake.
The couple have played on scratchcards regularly for many years, but have only played EuroMillions a handful of times.
Ms McManus, who is a full-time parent, said the couple were already looking at property to fulfil their ambition of owning their own home.
She said: "This is the best misunderstanding I've ever had. The news is still sinking in.
"When we had the ticket confirmed as a winning raffle number the lady from Camelot said to me, 'congratulations, you're a millionairess' and I just sat on the floor, laughed and cried. I haven't slept since we won!"
Ms McManus had gone to bed on New Year's Day when her partner called her back down and suggested they check to see if the ticket was a winner.
She said: "I checked it, and checked it again, and then asked Scott to check it, and then we got my parents to check it. We just couldn't believe it was real.
"The funny thing is, we took our Christmas decorations down that day which a friend told me was bad luck, but I think I'll do it again next year!"
The couple said they plan to enjoy a luxury family holiday.