Ruthin's Glasdir estate floods 'answers still needed'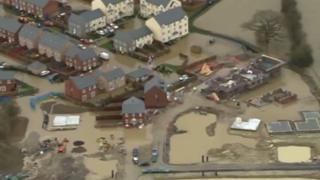 Denbighshire council leader Hugh Evans says questions about what caused a new-build estate to flood affecting over 100 homes remain unanswered.
Mr Evans was commenting after First Minister Carwyn Jones said there was no need for a public inquiry into November's floods at Glasdir, Ruthin.
He said an initial report showed the problem was caused by blocked culverts.
But Mr Evans said there was a moral duty to ensure the problem was fully explained to ensure no repeat.
Meanwhile, residents say it could be six months before they return to their homes at Glasdir, tagged a "ghost estate" by one householder due to the amount of people who have had to move out while repairs are carried out.
Mr Evans said he was "surprised and disappointed" by the minister's comments in the Senedd after Clwyd West AM Darren Millar challenged him to hold an inquiry.
Mr Millar's call comes after the Environment Agency's initial findings published in December said that culverts around the estate would need to have been 85% blocked in order to cause the flooding.
Mr Evans said: "The council believes that their conclusions are a partial explanation of why the flood in Glasdir happened, and there are a number of unanswered questions.
"That is why the council is commissioning its own independent investigation, as we have a moral duty to provide answers to the residents of Glasdir."
'Work together'
Mr Millar called the first minister's rejection of an inquiry a "real slap in the face for those whose homes were ruined by the devastating floods.
He added: "These residents are still trying to piece their lives together and part of that process involves establishing exactly what caused their homes to flood.
"Without clear answers they will live in fear that they may be flooded again in the future."
One resident, Kevin Williams likened parts of Glasdir to a "ghost estate".
Along with neighbours, he has moved to temporary accommodation while builders have been ripping out his old kitchen as well as the plaster from the downstairs walls.
"I've no idea when I will be back," he said.
During First Ministers Questions, Carwyn Jones said: "I don't see the need for a public inquiry because we know what happened.
"The Environment Agency conducted an investigation. It was clear that flood defences held but the culverts were blocked.
"We have requested the Environment Agency and Denbighshire council work together to ensure that risk of flooding is reduced in the future."