Rhyl attractions revamp plan takes step forward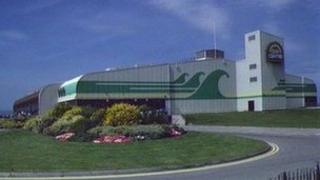 Plans to radically overhaul some of Rhyl's key attractions have taken a step forward.
A planned £18m investment could see the Sun Centre pool complex replaced by an aquatic centre, and improvements to the Pavilion Theatre and Sky Tower.
The money and designs are planned to come from a private leisure company.
Denbighshire councillors agreed to look at the business case and approved an immediate investment in the Sky Tower to ensure it meets safety regulations.
The tower would not reopen as an aerial ride at this stage.
Councillors also passed a recommendation asking for the aquatic centre business plan to examine how much it would cost to include a 50m pool.
The new reports ordered by the council, which will cost up to £30,000 in fees, are likely to be ready for consideration around April.
When the Sun Centre pool opened 30 years ago it quickly became a hit with visitors and locals alike, but councillors have been told it is time to replace it.
The new aquatic centre would be opposite the amusement arcades which dominate the middle section of Rhyl's promenade.
By placing it there, says a report that was put before councillors on Tuesday, visitors would be brought into the centre of Rhyl, encouraging them to use the town's shops.
It is hoped this would attract national food chains to open in the Children's Village - a collection of retail units which have struggled to attract business since they opened in the 1990s.
Tom Booty, manager of the Rhyl Going Forward Project, said: "We recognise that the visitor economy is not what it was and I don't think we can realistically think that Rhyl will go back to the heady days of the 60s.
"Nonetheless, people will always be attracted to the seaside and tourism will remain an important part of the economy, so we want to make sure that part of the offer is fit for the 21st Century."
With Marks and Spencer and Next set to close their stores in Rhyl, John Bellis, who chairs the Rhyl Business Group, says these new proposals are key to revitalising the town.
"What we want is to stop the negativity and to push the positive message that Rhyl is open for business," he said.
Aerial ride
"It has got attractions here and things that people would want to visit."
Mr Bellis added: "The present Sun Centre is time limited. We understand that that will continue operating until a new facility is available.
"Rhyl needs an attraction like this. We are a seaside town and it's something like this which is going to put us back on the map."
Jamie Groves, head of leisure for Denbighshire council, said the real benefit of the proposed revamp was to show the private sector that Rhyl remained a seaside town with a future.
But getting this scheme off the drawing board will not be straightforward.
Clwyd Leisure, a trust set up by Denbighshire council, runs a number of the authority's attractions, including the Sun Centre.
In a statement, the trust called Tuesday's council report misleading and unfair.