Cyclist Alan Mort death: Judge warning after John Evans jailed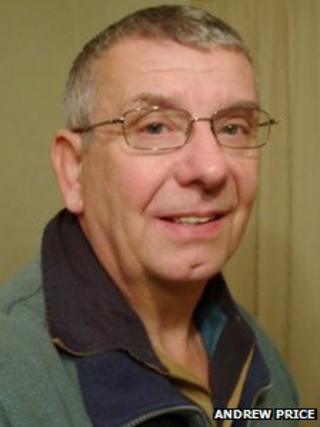 A judge has warned drivers have a "responsibility" towards cyclists on the road as a man is jailed for killing a rider in Flintshire.
John Evans, 45, was sentenced to 14 months for ploughing into Alan Mort, 63, from Kinmel Bay in his Range Rover.
Judge Niclas Parry told Mold Crown Court there were more "vulnerable" cyclists than ever using the roads.
He said it was inexplicable that Evans, from Flint, did not see the retired paramedic who was cycling properly.
Evans was also banned from driving for 18 months and was ordered to take an extended driving test.
The incident happened on the dual-carriageway between Flint and Bagillt on Sunday 5 February.
The court heard that other drivers, including two driving behind Evans, saw Mr Mort cycling in a straight line.
Witnesses said the victim was riding close to the kerb and was wearing a high visibility jacket.
But Evans did not see him and did not brake or swerve to avoid him.
He ploughed straight into Mr Mort, knocking him onto his bonnet and then onto the kerb.
A passing nurse tried to save Mr Mort, but he had been killed instantly, Jane La Grua, prosecuting, said.
Evans initially denied causing death by dangerous driving but changed his plea to guilty at the court hearing on Tuesday.
Judge Parry said Evans "caused the wholly unnecessary and avoidable death" of Mr Mort.
He had invested in only the best safety equipment and clothing and was visible to two drivers behind Evans who expressed disbelief that he had not done so.
Mr Mort would have been visible to Evans for at least 20 seconds, the court heard.
'Responsibility'
"He was there to be seen. He was immediately in front of you yet you collided with him," the judge said.
"The use of the public roads by cyclists was probably now more enthusiastic than ever before, the danger to cyclists had never been under greater scrutiny, they were vulnerable road users.
"Drivers have a high responsibility to be aware of cyclists on the road."
Miss La Grua said Mr Mort had cycled to Flint to see his son Christopher, had a coffee with him, and then headed home to walk his dog.
The defendant would have had "a clear and unobstructed view" of Mr Mort for more than 20 seconds.
"However, for reasons unknown, despite the time and distance available to him, the defendant simply failed to observe him," she said.
Evans drove into the back of Mr Mort's bike and the back light was later found embedded in the broken headlight of the 4x4 vehicle.
John Gibson, defending, said that the most significant matter was the death of Mr Mort and the defendant felt that acutely.
He accepted his culpability, whether his actions had been labelled dangerous or careless.
"He is at a complete loss to understand why he did not see him," he said.
The judge said Evans was a man of good character and an industrious, devoted family man whose "remorse was genuine".