Shotton woman Dora Mellor banned after driving course error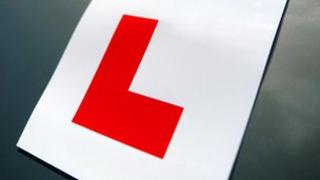 An 89-year-old woman has been banned from driving after her car mounted the pavement during a driver improvement course.
Dora Mellor, from Shotton, took the course instead of prosecution after reversing into a car and knocking its driver over as he inspected the damage.
At Flintshire Magistrates Court she admitted careless driving and failing to stop over the original offence.
She will have to sit a new test if she wants to drive again.
Tuesday's hearing was told the former deputy head teacher had been driving since the 1950s and did not have any penalty points on her licence.
In May 2012 she reversed into a parked Range Rover in a car park in Hawarden.
Prosecutor Matthew Ellis said that as the owner bent down to assess the damage, she drove off and knocked him off-balance.
She was offered a driver's improvement scheme instead of being prosecuted, but mounted a kerb during the course.
'Sad day'
Ms Mellor admitted careless driving and failing to stop, but an additional charge of failing to report the accident - which she denied - was dropped.
District Judge Andrew Shaw said it was a sad day for her and a sad day for him.
It was a low speed accident and there was very little damage, he said.
However, he said: "Set against that, of course, I have a public duty."
The court heard a driving course inspector said she was not safe to drive on the road.
She was a danger to herself and to other road users.
The judge gave her a six-month conditional discharge for the offences but said he would disqualify her until she passed a further driving test.
Gary Harvey, defending, said his client was born in 1923 and had been driving since the 1950s.
He said she drove all over north Wales and into Chester with her grandchildren, and gave her elderly friends lifts.
"If she does not have a driving licence then she would be house-bound," he said.
Mr Harvey stressed his client was being sentenced for the original offence and not what had allegedly happened on the driving improvement course.