Wrexham job centre fire threat: Stuart Jones jailed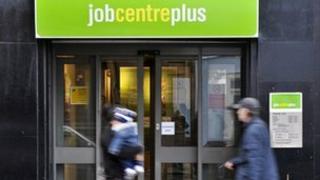 A man who doused himself with petrol and tried to set himself alight in a job centre after a dispute over benefits has been jailed for 20 months.
Stuart Jones, 44, of Wrexham, was owed £1,100 and told staff at the town's job centre he would set himself on fire unless he got it.
At Mold Crown Court he admitted two charges, including threatening to destroy property.
The court heard that he held a lighter upside down and it failed to ignite.
Jones had a grievance against the Department for Work and Pensions and went to the job centre with a can of petrol at about 14:45 BST on 3 October, 2012.
Staff and members of the public - including children - watched as he poured petrol on his clothing.
He shouted: "I want my money," adding: "Nobody is listening to me. I am going to set myself on fire."
Judge Merfyn Hughes QC said: "Then with a lighter you tried to ignite the petrol vapours.
"If you had been successful it would not doubt have fatal consequences for you and pose a very serious risk of danger to the lives of others.
'Lost control'
"In the event you failed to set alight to yourself and eventually negotiations led to a reasonable conclusion."
Staff raised the alarm and got blankets and a fire extinguisher as a precaution. Security staff calmed Jones, police negotiators were called, and he was given three cheques totalling £1,100 which he was owed.
Jones admitted threatening to destroy property and possessing articles intending to destroy property.
The judge said the defendant had told a psychiatrist he did not regret what he had done.
Stephen Edwards, defending, said his client had physical problems following a motorcycle accident when he was younger, and mental health issues.
"My client took the view that he was being fobbed off. As a result he flipped and lost control of his senses," he said.