Mystery of Mold's 'best library in the world' postcard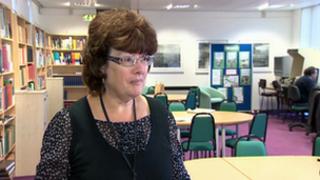 Mystery surrounds a postcard sent to a Flintshire library from Perth in Australia, describing it as the "best in the world".
The complimentary card arrived at Mold Library on Valentine's Day.
Staff have no idea who sent it, but are more than happy to receive the praise from the other side of the world.
Librarian Carol Bandy said: "It is nice to be acknowledged by somebody who clearly knows what they're talking about."
Ms Bandy said colleagues initially thought she had sent it during a trip to New Zealand during which she visited Australia.
However, she said: "It's not signed. So we don't recognise the writing. We don't know who sent it.
"It did arrive on Valentine's Day, so maybe that's important, but we just don't know how it got here."
She added: "It's addressed to Mold Library very clearly, and it says 'to the best library in the world,' which of course we are."
The card adds: "The finest way to to improve this place would be to import Mold Library and all the staff. Missing you all."
Mold Library is Flintshire's busiest, with 174,460 visitors during the last financial year.
It also includes a museum on the first floor showing Mold's development as a market town and rooms dedicated to Victorian novelist Daniel Owen.