Horsemeat scandal: Creative Foods lasagne test positive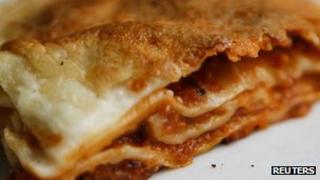 Lasagne produced by a food company in north east Wales has tested positive for horsemeat DNA.
The discovery was made in the lasagne made at Flint-based Creative Foods, which is owned by food supplier Brakes.
Brakes said one positive test at 1% horse DNA was reported by a customer of Creative Foods for a lasagne made exclusively for that outlet.
The companies said they are "very disappointed to have been let down by our respective suppliers".
The firms said customers are being contacted and suspect products being recalled.
Brakes, which is based in Ashford, Kent, is the supplier for the House of Commons Catering Service and last month it withdrew its steak and kidney pie, beef and onion pie, steak and kidney suet pudding, and beef Italian meatballs as a precaution.
It also supplies pubs among 19,000 customers who buy around 48,000 cases of products containing beef every week.
Following last months actions, the company said it was stepping up its testing regime, resulting in the latest positive tests
'Duty of care'
In addition to the Creative Foods lasagne, the parent firm said another of its Brakes' products, a spicy minced beef skewer had tested positive for horse DNA at between 1% and 10% levels.
In a statement on Friday, a Brakes spokesperson said: "Brakes and Creative Foods are very disappointed to have been let down by our respective suppliers and have sincerely apologised to our customers.
"As any responsible company, we have a duty of care to all our customers and the consumers they serve to guarantee the integrity of the products we purchase.
"Should any positive test result be confirmed on any Brakes or supplier brand product we purchase, customers who have received this product will be contacted and the product recalled or blocked from sale."
Friday's announcement by Brakes follows Bird's Eye and Taco Bell who also said products had tested positive for horse DNA.
The affected products are Birds Eye's Traditional Spaghetti Bolognese and Beef Lasagne, and Taco Bell's Ground Beef.