French footballer Steven Lecefel's Paris-Rhyl commute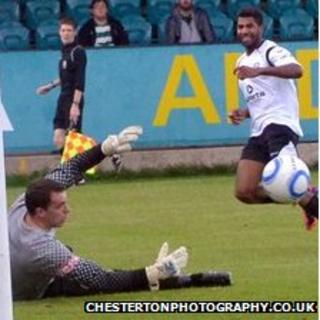 A French footballer commutes from Paris to north Wales at weekends so he can experience the game in Britain.
Steven Lecefel, 26, a striker with Rhyl FC, pays for the 1,000-mile round trip out of his own pocket and stays at his manager's house before flying back.
Six months after he joined, the Huws Cymru Alliance team are on the verge of promotion to the Welsh Premier League.
Lecefel said: "I learn more every match, and hopefully I can repay that by helping to get us promoted."
Lecefel's dedication has also been rewarded with a call-up by Martinique, where his father was born, and he is determined to use Welsh and English football to improve his game.
He said: "I like UK football. My game is better in the UK. I am very fast. I know you like the 'kick and rush'."
Lecefel, who runs a mobile phone firm on weekdays, begins his match day preparations for the Lilywhites with an early trip to the airport in Paris and a flight to Manchester. He is met at Manchester by Rhyl manager Greg Strong and taken to that day's game.
Lecefel had been turning out for French amateur side Trappes on the outskirts of Paris when he was spotted by scouts for English League Two side Barnet.
Although Barnet's then manager Lawrie Sanchez decided not to sign him, the trial brought him to the attention of Strong, whose clubs included Wigan Athletic and Bolton Wanderers.
Strong said of the club's first French signing: "His attitude and commitment to the cause is absolutely fantastic.
"In the past there's been some local guys we've tried to sign, who don't have the same dedication or commitment that Steve's got to travel from France to play for Rhyl.
"I've always said that people who work hard and give everything deserve all the rewards they can get. He deserves his rewards."
Lecefel says he has much to learn from the Lilywhites' boss.
He said: "Yes, I am a good player, but Greg Strong is a professional, and can show me how to be professional about my game.
"He is a great man, who's taken the time to teach me about the British game, because it's very different to football in France."
He came to the attention of the Martinique team after impressing on trial for Rhyl in a pre-season friendly against Premier League champions Manchester City.
He featured in their Caribbean Cup group wins over Cuba and French Guyana as well as a credible goalless draw with Jamaica, before les Matininos were finally halted on penalties in the semi-finals by Trinidad and Tobago.
But their top four finish means that Lecefel will have another chance to line up in this summer's Concacaf Gold Cup, against the best sides from the Caribbean and North and Central America.
He said: "It was back in October that I first received an email from the manager asking me to play in the qualifiers. I couldn't believe it, I thought it must be a joke."
"But it wasn't, which I'm very glad about because I had to pay for my own ticket to Guadeloupe and the matches went better than I could have hoped for really.
"Even now it's still hard for me to believe that if I can stay fit and in form, then in July I'll be in the USA, playing Mexico, USA, Jamaica and Canada."
However, Lecefel would not be able to represent Martinique at a World Cup as it is considered a province of France and does not have full Fifa membership.