Llangollen Community Hospital closes after 137 years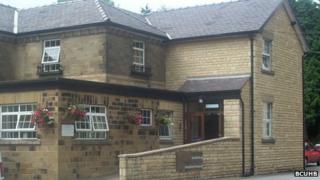 Almost 137 years after it first opened, a community hospital in Denbighshire has closed its doors.
Llangollen hospital has shut as part of a health care shake-up by Betsi Cadwaladr Health Board.
It marks the end of an era as services relocate to Llangollen Health Centre while in-patient beds have been transferred to Chirk, near Wrexham.
But campaigners fighting to save the hospital accused the health board of "abdicating" its responsibility.
Alaian Kahan, from Keep Llangollen Health Services, said: "The health board have abdicated their responsibility towards the people of Llangollen and the Dee valley.
"They clearly don't appreciate the difficulty of having to travel to Mold from Llangollen and the upper Dee valley."
'Collaboration'
Director of primary, community and mental health services Geoff Lang said it was a move towards integrated care.
From Monday, all outpatient, dressings' clinics, collection of blood samples and physiotherapy appointments will be held in the health centre.
Mr Lang said: "The relocation of services to the health centre will help us to develop our collaboration with our partners in the Llangollen GP practice and we intend expanding some of these services over the coming months.
"This is an important step towards the integrated care we want to be able to provide for the town."
Work started on building the hospital in 1875 and it admitted its first patient on 13 April 1876.
In 1884 the building was extended to provide extra wards and an operating theatre.
Gas gangrene
Hospital records indicate that the majority of patients were farmers, labourers, miners or people needing "clean air" to assist their recovery.
During Word War I, many were soldiers suffering from gas gangrene, and gunshot wounds were treated.
It was extended again in 1925, and in 1937 records show 92 patients were admitted and 11 babies were born.
Physiotherapy and out-patient departments were built in 1958.
A raft of changes to health care in north Wales are set to take place.
Other community hospitals at Blaenau Ffestiniog, Flint and Prestatyn are also due to close, and plans to move specialist intensive care for babies to England have proved controversial.
The community health council for north Wales has written to Health Minister Lesley Griffiths to spell out concerns about some aspects of the shake-up.
The plans being referred to her relate specifically to changes to minor injuries, x-ray and older people's mental health provision in Gwynedd alone.