Diggers transform Rhyl Cut into fishery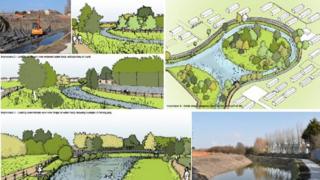 Work is under way to transform a former dumping ground in Denbighshire into a community fishery and recreation area.
Land at Rhyl Cut had become a haven for fly-tipping but diggers have moved in to transform the site.
More than £170,000 is being spent to make the area a traffic-free route through Rhyl South West.
Over 40,000 tonnes of material is being removed to accommodate a fishing pool and landscape the area.
Denbighshire council countryside officer Garry Davies said the work had been challenging due to ground condition but would be worthwhile.
Once completed in the coming weeks, he said the project will create a "pleasant, clean and peaceful environment".
The proposal is to create an access route for walkers, cyclists and a low-cost community fishery.
The land falls within a Communities First area regarded as deprived.
Mr Davies said it would also increase the potential for wildlife in the area and provide a route to the nearby Brickfield Pond nature reserve.
Meanwhile, the material removed for the pool will be used for a mountain bike track at the former tip at Glan Morfa at nearby Marsh Road.
"This is a very cost effective way of delivering both projects and has resulted in significant savings as opposed to taking the material to landfill," he said.
"Excellent community support has been in place from the very beginning and as we are all very much aware this is absolutely essential if the benefits from the project are to be sustained well into the future.''
ScottishPower has carried out specialist work in relocating a high power electricity cable which was in the excavation area.
And the adjacent landowner at Marine Holiday Park has allowed a path to be laid across the site.