Wrexham council asked to back north Wales CCTV plans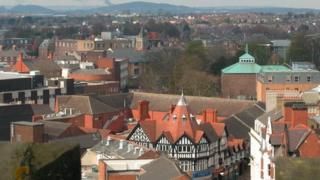 Wrexham councillors are due to vote on plans to reduce the number of CCTV control rooms across north Wales.
It follows moves to cut costs by centralising the monitoring of town centre CCTV cameras across the region.
Senior councillors from the region's six local authorities have proposed a cut from six to two control rooms.
A report says councillors should back a plan which proposes Wrexham hosts one of the two bases, which traders and bar owners feared the town would lose.
The report, to be discussed on Tuesday, asks Wrexham council's executive board to "support the principle of a two centre solution for a north Wales integrated public space CCTV operation, with one of the monitoring centres in Wrexham and the other in the JCC [joint communications centre], St Asaph".
It also recommends that "in order to protect the council's interest...develop an alternative plan as a contingency arrangement in the event of the regional CCTV project failing to materialise".
'Effectively obsolete'
A review of CCTV in north Wales, led by Conwy council, was commissioned in 2009 and was funded by a Welsh government loan of £805,000.
The study explored establishing one regional monitoring operation for CCTV across north Wales, to replace the existing six stand-alone operations.
Council leaders say no decisions will be taken until any proposals have been considered and discussed by all the authorities involved.
There have been concerns from traders and owners of Wrexham nightspots that the town's CCTV control room could be moved out of the area.
Wrexham councillors have previously heard that 92 CCTV cameras operate across the county borough but the recording equipment "is effectively obsolete" and needs upgrading to a digital format with an estimated cost of £150,000.
Concerns over how to pay for this "are replicated across north Wales," a report says.