Wrexham Tetra Pak to move after 30 years in north Wales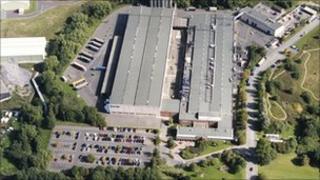 A firm which makes cartons for the drinks industry is closing its Wrexham plant before the end of the year.
There are 82 people employed on the site, with 17 of those working at its distribution centre.
Tetra Pak, which has been in north Wales for more than 30 years, is to move to another location, ideally in the Chester area, said the company.
Tetra Pak said it would be moving to offices "more suited to its current and future needs".
Clwyd South Welsh assembly member Ken Skates said the closure of the plant was a big blow to the area.
In 2011, the firm cut 150 jobs from its Wrexham site but created 21 at a new distribution centre.
Steve Wyatt, managing director for Tetra Pak, UK and Ireland, said: "We are operating in a rapidly changing business environment, where competition is increasing.
"We need to ensure we compete more effectively, whilst continuing to deliver high-quality customer service.
"We need an office building more suited to our needs and are actively exploring sites in the local area. We hope to be able to confirm our new location soon."
Tetra Pak is also planning to outsource its distribution centre to an external supplier.
"Our proposal to outsource the distribution centre is no reflection on the excellent work the employees who work there have done. We will give affected employees extensive information and support," said Mr Wyatt.
'Announcement an inevitability'
Mr Skates said he was very disappointed: "Tetra Pak has been in the area for over 30 years and in that time has provided good quality jobs for local people.
"However of late they have stripped investment, focus and vital manufacturing functions away from the Wrexham site which sadly makes today's announcement an inevitability.
"I'm disappointed in Tetra Pak. They have had the support and assistance of the local community over the last three decades and have been ably served by a skilled and committed workforce.
"I will be working with the Welsh government and others to ensure that we look carefully at the future uses of the site so that we can bring fresh jobs and new investment to the local area."
The Wrexham site had housed the company's commercial operations for the UK and Ireland.
The company ended "roll-fed production" - where flat cartons are produced and dispatched to companies - at Wrexham in 2011.
Tetra Pak, founded in Sweden more than 50 years ago, produces cartons and packs for milk and juices.