Living Churchyards: £50,000 Flintshire project starts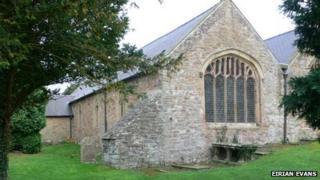 A £50,000 project is under way to protect ancient churchyards in Flintshire, and encourage wildlife and natural meadow plants.
The Living Churchyards pilot scheme is the first of its kind in north Wales, say the organisers.
Run by the North Wales Wildlife Trust (NWWT), the project also hopes to train volunteers in traditional skills such as scything and haymaking.
The first church to see work begin is at Llanasa, near Prestatyn.
The parish priest, the Reverend Stuart Elliott said: "The village is very much a tourist destination because it is included on the north Flintshire drive routes and people are consistently walking through the village.
"We are looking at trying to have the church open during the lighter months for visitors and giving people something to do and visit will hopefully result in them staying longer."
Other churches taking part in the project are St Mary Magdalene's at Gwaenysgor, St Michaels in Caerwys, Eglwys Crist at Rhes y Cae, and St James Church in Holywell.
The NWWT consultant, Iwan Edwards, said: "The historic significance of churches as buildings is well documented and of course they are protected, but not so the churchyards. Yet these ancient churchyards have been untouched by modern agriculture.
"What you are looking at is ancient hay meadows and the idea is they can be managed in a more ecological way to promote wildflowers, encouraging nectar rich borders.
"We can put up bird and bat boxes, encourage composting, survey ancient trees, study interesting lichen and mosses."
Returning wildlife
Through the project, its organisers, which also include Cadwyn Clwyd, hope to see species such as pignut, meadow saxifrage and burnet-saxifrage flourish.
The churchyards also make a perfect habitat for wildlife such as butterflies, slow worms, lizards and bats.
Cadwyn Clwyd project officer Sarah Jones added: "We wanted to involve churchyards with the local community and to preserve their peacefulness and tranquillity and their vital role as havens for wildlife requires as much attention as the buildings themselves.
"We've been delighted with the interest shown in a project which we see as a pilot which we hope can be rolled out across the rest of north Wales."
Much of the funding has come from the Rural Development Fund for Wales, through European grants and the Welsh government.
The NWWT hopes to organise classes in dry stone walling, hedge laying and other skills as part of the project, which runs until August this year.
The trust is also holding a Living Churchyards spring festival day to showcase the work of the project on 23 March at Llanasa.