Chirk's wrong way roundabout drivers face action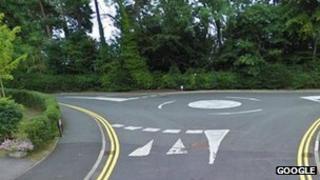 North Wales Police and highways officials are investigating concerns motorists are ignoring a roundabout and driving the wrong way over a junction.
Councillors are worried there could be an accident as vehicles on the B4500 Castle Road, Chirk, cannot see motorists accessing Castle Walks if they do not use the roundabout.
Police promise action if drivers are seen flouting the rules of the road.
The town council has suggested layout changes after raising the concerns.
'Enforcement action'
North Wales Police said officers have been in discussion with Wrexham council about the problem.
It arises because drivers "find it easier" to drive straight over the mini roundabout or on the wrong side of the road to access the opposite junction rather than use the roundabout.
But Chirk town clerk Sam Hughes explained that on-coming vehicles approaching the junction on a bend cannot necessarily see the vehicle bypassing the roundabout until it is too late.
Town councillors are worried it is only a matter of time before someone is hurt.
They are calling on Wrexham highways department to take action.
Police say there have not been any reports of accidents "so far".
A spokesperson said anyone caught breaking the law receives a warning letter.
"If they persist enforcement action will be taken," he said.
Wrexham council said: "We are aware over motorists deliberately driving the wrong and North Wales Police are looking into the mater."