Facebook SOS: Rapist David Edgerton jailed for life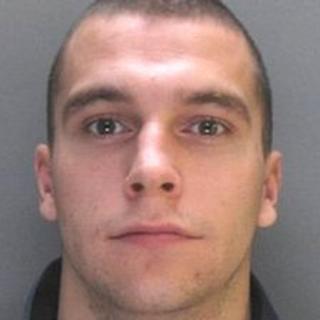 A serial sex offender finally brought to justice after a girl he raped pleaded for help on Facebook has been jailed for life with a minimum sentence of nine years.
David Edgerton, 23, of Connah's Quay, Flintshire, admitted abduction and rape after dragging the girl into woods.
The judge asked the authorities to explain why he was free for so long.
A Mold Crown Court jury convicted him of rape, attempted rape and attempted abduction of three other victims.
In summer 2012, Edgerton first tried to abduct a schoolgirl at Leeswood. A few hours later he returned to the same spot and abducted and raped the other schoolgirl.
During that harrowing attack, his victim managed to message her sister's Facebook account on her mobile phone, writing "help" and "raping me" after being dragged off a street into Blast Woods at Leeswood.
Judge Merfyn Hughes said that when one or even two complaints had been made, a decision not to prosecute may have been reasonable decision making.
But when further complaints were made, then a more holistic approach by police and the CPS may well have prevented the Leeswood attacks, he said.
'Serious sexual predator'
The judge wanted the police and Crown Prosecution Service (CPS) to give an explanation to the families of the victims.
After the sentence, Ed Beltrami, chief crown prosecutor for CPS Cymru-Wales defended the way the allegations were considered.
He said he had reviewed CPS involvement in the case so he could be assured that they had acted correctly.
He found:
2009: An allegation of attempted rape against David Edgerton on a woman at her home in Flintshire but the case did not proceed to trial. A decision not to charge was taken on the grounds that the evidence available was insufficient to provide a realistic prospect of conviction. "This was mainly because the victim was unable to identify the suspect with sufficient clarity," said Mr Beltrami.
December 2011: Edgerton was successfully convicted of common assault on a 10-year-old child in Warrington. Two members of the public had intervened before a sexual assault could occur.
August 2012: Edgerton raped a woman in Broughton. Police were still investigating this incident when Edgerton committed his crimes in Leeswood less than two weeks later. The Broughton incident was not referred to the CPS by police until after Leeswood attacks had occurred. They were then all dealt with together.
"Some of the offences that individually may have had weak evidence to support a realistic prospect of conviction became stronger cases when looked at together," said Mr Beltrami.
"As a result, Edgerton was charged with all offences, including the attempted rape in 2009. A further charge of assault with intent to commit a sexual offence was added in relation to the Warrington common assault.
"I am satisfied that the CPS considered all allegations against Edgerton in the correct manner, as soon as the evidential files relating to these horrific offences were passed to us.
"By doing so, the prosecuting authorities ensured that successful prosecution of all the offences was possible."
After sentencing, Det Insp Iestyn Davies of the North Wales Police major incident team who led the investigation, described Edgerton as a "serious sexual predator" and said the area was a safer place.
Det Supt John Hanson, the force's head of public protection, said: "The courage and bravery these victims have demonstrated following their own terrifying experiences is outstanding.
"The maturity of Edgerton's victims following the offence in Leeswood last summer; to provide the specially trained officers with the indelible evidence to implicate Edgerton was crucial to this investigation.
"Every single one of his victims were prepared to give evidence at his trial."
Mr Beltrami also praised the victims for their tremendous courage and fortitude in coming forward.
He called Edgerton "a highly dangerous individual who is guilty of a string of horrific and violent offences".