Denbighshire council staff protest at work terms change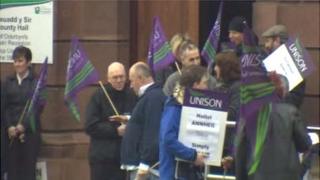 A protest has been held over changes which unions say could mean council workers being sacked for refusing new working conditions.
Unison says Denbighshire council staff would then be re-employed on inferior terms.
Around 20 members of staff, mostly Unison members, lobbied councillors over the plans on Tuesday.
The council said it had decided to defer a decision after a meeting.
Earlier, the council said the proposals were similar to changes at other local authorities.
Negotiations have been taking place for more than two years over plans to scrap the annual £1,000 payment paid to workers who have to use their own car for their job.
They will be paid a small increase on their mileage rate by way of compensation.
There are also proposed changes to mileage rates for casual car users.
"These cuts to terms and conditions are unnecessary and will have a big impact on staff," said Geoff Edkins, the regional organiser for Unison.
He said he hoped that councillors would "sit up and listen".
The union says that staff are prepared to "share the pain of the cuts where necessary but it has to be done equitably".
Mr Edkins added that savings suggested by the union have been "on the whole" rejected, and he wants councillors to do "all that's in their power" to get the council to negotiate with the trade union.
'Workforce efficiencies'
A meeting of the full council on Tuesday decided to defer a decision on whether the chief executive should be granted powers to impose changes on essential car user allowances and disturbance and pay protection policies.
The unions had wanted the councillors to defer any decision so that the dispute can go to arbitration.
Earlier, Denbighshire council says it has to find savings of £18m over three years and, of this, only £762,000 has been earmarked from changes to staff conditions.
The council said staff were told in February that following two years of negotiations "we had reached our final position on the savings we planned to make in workforce efficiencies".
In its earlier statement the council added that once consultation with staff was complete, their responses would be reviewed.
It added: "If following this, the council still considers that changes should be implemented, then any staff who have not agreed to the proposals will be served notice of the council's intention to implement the changes from 1 October and will be offered new contracts on this basis."