Prestatyn fire: Death blaze 'started deliberately'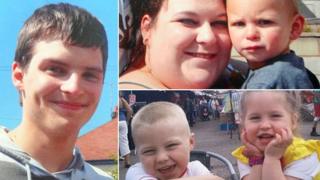 A fire which killed five family members was started deliberately by someone holding a flame against a child's pushchair, Mold Crown court has heard.
Lee-Anna Shiers, 20, her partner Liam Timbrell, 23, their 15-month-old son Charlie, and two of his cousins died in the blaze in Prestatyn, Denbighshire.
Fire expert Stephen Andrews said there was no evidence of an electrical fault or abnormal power supply at the flats.
Melanie Smith, 42, who lived in the flat below Ms Shiers, denies murder.
Ms Smith also denies a charge of making a threat to burn down the home of an alleged love rival, Samantha Schofield, on an earlier occasion.
The court was told the victims would not have been able to escape the first-floor flat without breaking the windows because they had no bottom openings.
This would have been very difficult, said forensic fire investigation consultant Stephen Andrews.
He said that following extensive examination he believed the fire was started by a naked flame being held against the pushchair or its contents in the communal hall on the ground floor.
The blaze on 19 October last year spread and trapped the occupants above.
Fire tests involving the same kind of child's pushchair, blankets and baby wipes were carried out at a fire station, a video recording of which was played to the jury.
Mr Andrews ruled out the possibility the fire could have started by flammable material being poured through the letter box or by a carelessly discarded cigarette.
He added: "My opinion is that this fire was started intentionally."
Escape attempt
Mr Andrews also told the court that Mr Timbrell appeared to have attempted to break windows at the flat using a vacuum cleaner but was unsuccessful.
"You would be unable to escape from this flat without breaking a double glazed unit," he told the jury.
But this was "very difficult", he said.
The court heard there was no evidence of anyone smoking indoors but smoking materials, including rolling tobacco, were found in Ms Shiers's handbag.
A television on a cabinet had melted which gave an indication of the kind of temperatures in the room, said Mr Andrews.
The plastic casings would melt at 170C to 200C, and the television was a metre off the ground.
"It is a pretty horrible scene," he said.
Cross-examined by Stephen Riorden QC, defending, Mr Andrews confirmed there were no fire doors at the property and no fire escape.
Most of the rooms in the upstairs flat did not have any doors so there was nothing to stop the fire from spreading, the court was told.
Mr Riorden asked the witness if he could agree with the proposition that the fire could have been caused by a carelessly discarded match.
Mr Andrews said: "Yes, that is possible."
Mr Riorden said that if a match had been used then it would have been completely destroyed in the fire.
Mr Andrews said: "Almost certainly."
Cross-examined on the issue by Ian Murphy QC, prosecuting, Mr Andrews confirmed that was a possibility, but more often than not a match would extinguish in flight.
A disposable cigarette lighter found in the hall was a possible source of the fire but Mr Andrews could not say it was the source of ignition.
Died in hospital
It was also possible it could have been in the pushchair because Ms Shiers was a smoker.
Michael Hough, a senior investigator with North Wales Fire and Rescue Service, said he was part of a team working with Mr Andrews and his conclusions were the same.
The court has heard previously how neighbours desperately attempted to rescue the trapped family but were driven back by the blaze.
Firefighters managed to rescue Ms Shiers' son Charlie and his father, Mr Timbrell, but they died in hospital.
It has been claimed that Ms Smith started the fire in a row over a pushchair being left in the shared hallway.