Denbigh homes evacuated by explosives experts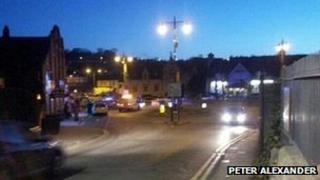 Homes in Lenten Pool, Denbigh, have been evacuated for a second night as explosives experts search a property.
Homes were first evacuated on Friday night after police called in the Explosives Ordnance Disposal (EOD) team, from Chester, to the property. Residents returned after five hours.
Police said they had to evacuate again after the EOD team was called back.
It follows Friday's arrest of a 46-year-old man after attacks in Denbigh involving firework-like devices.
Windows have been smashed and cars damaged in more than a dozen separate incidents since March.
While 40 residents were evacuated on Friday night, it is not clear how many had to leave their homes on Saturday night.
North Wales Police said residents would remain at a rest centre set up in the town hall until it was "deemed safe for them to return".
Det Chief Insp Andrew Williams said "specialist resources" had been called in "to help us ensure the safety of all residents in the area".
"As a measure of precaution, properties have also been evacuated and a cordon is again in place," he added.
"I would sincerely like to thank local residents for their continued support and co-operation in this matter."
The 46-year-old man remains in custody at St Asaph.