Denbigh homes evacuated for second time in fireworks inquiry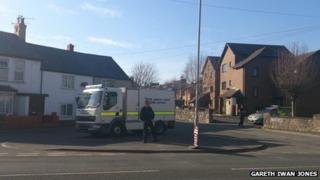 Homes in Denbigh have been evacuated for a second time, as a property was searched following a spate of firework attacks in the town.
Residents in the Lenten Pool area of Denbigh were asked to leave their homes on Saturday when bomb disposal experts were called in to help police.
Up to 40 people spent Friday evening in the town hall after an earlier evacuation.
A 46-year-old man is currently being questioned by police.
The investigation follows more than a dozen incidents since March in which homemade devices have been set off in the Lenten Pool area, damaging cars and windows of nearby houses.
The search by North Wales Police is centred on a property just off Smithfield Road in the town.
Residents were again given temporary accommodation in Denbigh Town Hall by council officials while the fresh search was carried out on Saturday.
It followed a decision at about 18:00 BST to call in a team from the Royal Logistics Corps bomb disposal unit based at Chester.
Senior investigating officer in the case, Det Chf Insp Andrew Williams said: "First and foremost, my priority in this operation is to ensure the safety of the public.
"In this instance, specialist resources have been called upon to help us ensure the safety of all residents in the area.
"As a measure of precaution, properties have also been evacuated and a cordon is again in place.
"I would sincerely like to thank local residents for their continued support and cooperation in this matter."
Police have also renewed their appeal for any information in relation to the ongoing investigation.