Denbigh devices: Second arrest made over 'fireworks'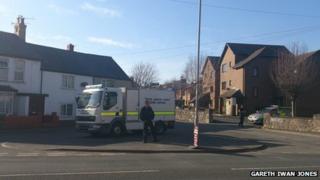 Police say a 40-year-old woman has been arrested as part of the ongoing investigation into firework-type devices ignited in Denbigh.
It comes after residents in the Lenten Pool area were asked to evacuate their homes for a second evening in a row.
It followed a decision by Police on Saturday to ask bomb disposal experts to return to a house they were searching.
A 46-year-old man also remains in custody in connection with the inquiry.
Police said the new arrest was made on Sunday morning, involving a woman who is local to the Denbigh area.
She has been taken to St Asaph for questioning by detectives.
They have been trying to establish who is responsible for more than a dozen attacks since March, in which homemade devices have been ignited in the Lenten Pool area.
The incidents have led to windows being broken and cars being damaged.
Bomb squad called
On Friday evening, up to 40 residents in the area were asked to leave their homes, while a search of a property near Smithfield Road was undertaken.
Then at about 18:00 BST on Saturday, North Wales Police said the Royal Logistics Corp ordnance experts were again requested at the property.
Householders were accommodated at Denbigh Town Hall while the search continued, and finally allowed home at about 22:00 BST.
Police said on Sunday that the search of the property in Lenten Pool has now finished.
"Public safety is paramount to us and therefore all measures believed necessary to protect residents were taken while specialist officers completed their work," said Det Chf Insp Andrew Williams.
"I would again like to express my utmost thanks to all residents living in the immediate vicinity for their patience and continued support."