Luis Suarez copycat bites pupil, claims mum Sharon Ellis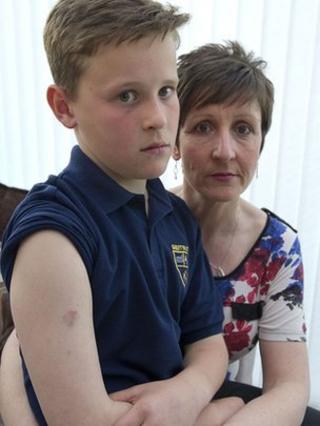 A mother says she blames Liverpool striker Luis Suarez for setting a bad example after her son was allegedly bitten by a pupil in a school row.
Sharon Ellis said son Ryan, 11, was hurt in a dispute in a football game at school at Connah's Quay, Flintshire, after another child said "I'm Luis Suarez. I'm going to bite you'".
It came a day after the star had bitten a Chelsea player in a televised game.
Flintshire council said the school dealt with the incident "sensitively".
"Not only has my son been bitten, but the other child now has it permanently marked on his school record - all because of Luis Suarez," said Ms Ellis.
"It's a copycat incident."
The Uruguayan star has been banned for 10 games by the Football Association over the incident during Sunday's 2-2 draw.
He apologised and has spoken to Branislav Ivanovic personally to say sorry.
The school incident happened on Monday morning during a breakfast club session.
Golftyn Community Primary School, Deeside, declined to comment.
Flintshire council lifelong learning director Ian Budd said: "The school has handled the issue sensitively and is working with both children and their parents."
Ms Ellis said the headmistress called her on Monday morning to explain her son had been bitten on his upper arm.
"The boy in question has turned around to my son and said 'I'm Luis Suarez. I'm going to bite you'.
"Ryan, my son, said 'yes, go on then', just sarcastically, not thinking anything about it.
"Next thing this boy has bitten through a sweatshirt and a polo shirt and bit my son on his upper right arm."
Ms Ellis added: "I don't agree with what the child has done, but I blame Suarez for this.
"I haven't spoken with the other child's parents, but the headmistress told me they agreed with her and were angry too."
She said her family are Liverpool supporters and Ryan has an autograph by Suarez.
"Professional players need to be aware of the impact they have on children," she said.
"These stars are role models for so many children."