Wrexham Science festival 'postponed for a year'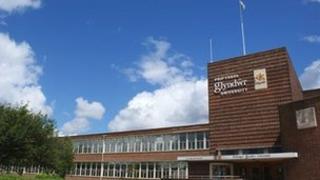 A science festival held annually for the past 14 years in Wrexham has been postponed for 12 months due to economic pressures.
Organisers of the Wrexham Science Festival said there was an abundance of other events in the area and extra resources could not be committed.
A spokesperson said the decision to call off the programme had been a difficult one.
The event, due to be held in July, will be back next year, she added.
It was organised by Glyndwr University in partnership with Wrexham council, Yale College, Techniquest Glyndwr and Careers Wales North East.
Glyndwr University has already hosted Ffresh - the Student Moving Image Festival - in February and its Racecourse stadium is due to host two Rugby League World Cup matches in November.
Its Wrexham campus also housed the Wales Comic Convention at the weekend.
Professor Helen James, chair of the Wrexham Science festival and pro vice-chancellor at Glyndwr University, said the partners were disappointed to postpone the event, but look forward to bringing it back next summer.
"We made a joint decision to withdraw the event due to economic pressures," said Prof James.
"Glyndwr University is holding many other events this year and is hosting two games at the Rugby League World Cup in November.
"We have already held the very successful Ffresh festival earlier this year so we could not commit to extra resources this summer."
Prof James added that a break from the science festival will give its committee an opportunity to regroup and come back stronger than ever.
"Wrexham Science Festival has worked hard over a number of years to cement its position as the leading event for science communication in north Wales, the largest festival of its kind in Wales.
"We would like to thank all of its contributors and supporters for their commitment to the event over the past 14 years, and we look forward to seeing you all in 2014," she added.