Flintshire backs Wrexham as north Wales prison site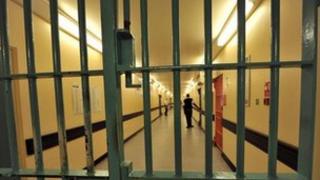 Flintshire has declared its backing for neighbouring Wrexham to be the location for a "super" prison for north Wales.
Flintshire has been part of a campaign since 2007 to see a new prison built in the region but has no suitable sites.
Members of the council's cabinet supported Wrexham council's bid for a prison capable of holding more than 2,000 inmates on an industrial estate.
The Ministry of Justice dropped plans for a prison in Caernarfon in 2009.
There is currently no prison in north Wales, prompting concern about the impact on prisoners and their families.
London and north-west England are also in the running and Justice Secretary Chris Grayling has also announced plans for extra accommodation at HMP Parc Prison in Bridgend.
'Fully behind'
Two potential sites have been identified in Wrexham for a prison, at Kingmoor Park and the former Firestone factory site, both on Wrexham Industrial Estate.
Flintshire cabinet members said they favoured the Firestone site, which has also won the support of First Minister Carwyn Jones.
Council leader Aaron Shotton, said: "We are fully behind the campaign for a prison for north Wales, which is the only area in the UK without one.
"Such a facility would allow prisoners from the region to use their first language and is likely to reduce re-offending rates.
"Not only that, it would bring considerable economic benefits to the area and could lead to over 1,000 jobs being created and a possible expected expenditure of around £47m."
Councils, health officials and emergency services have already welcomed the proposals.
Welsh Secretary David Jones has said he will press the case in the UK government cabinet.
In February, the North Wales Regional Leadership Board - which groups together council leaders and emergency services - said the size of the proposed prison means it must serve north Wales and parts of north west England and the West Midlands.