Gorsedd honour for swimmer David Davies and chef Bryn Williams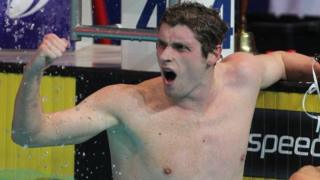 Olympic swimmer David Davies, former Wales footballer Malcolm Allen and leading chef Bryn Williams will be honoured by the Gorsedd of the Bards.
Every year people who have made a contribution to Welsh culture or society are chosen as new members for the Eisteddfod Druidic Order.
Others include Carmarthenshire Paralympic bronze medallist Claire Williams and playwright Tim Baker.
They will honoured at the National Eisteddfod in Denbigh on 9 August.
The Gorsedd was created in 1792 by scholar Iolo Morganwg.
The head of the Gorsedd of the Bards is the archdruid, who is elected for a term of three years and is responsible for conducting the Gorsedd ceremonies during eisteddfod week.
Honorary druid
David Davies, from Barry, won a bronze medal at the Athens Olympics in 2004 and a silver at Beijing four years later.
Bryn Williams, originally from Denbigh, has made his name as one of the UK's leading chefs and owns a London restaurant.
Malcolm Allen won 14 caps for Wales and played for a number of leading clubs including Aston Villa and Newcastle United. From Caernarfon, he now works as a broadcaster.
By tradition Gorsedd members, who dress in blue, green or white robes, choose a bardic name at their induction.
Last year, the Gorsedd of the Bards opted for a change in the robe system with only winners of Eisteddfod main stage competitions being allowed to wear white.
Everyone else entering the Gorsedd as an honorary druid wears blue for succeeding in the fields of law, science, sports, journalism, media, and local or national activities.
A full list of those being honoured will be available on the eisteddfod website.