Llangollen health centre plans follow hospital closure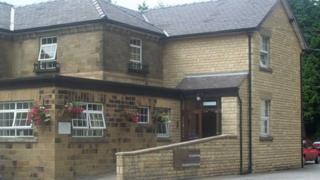 Plans for a new health centre have been unveiled in a Denbighshire town three months after the closure of its community hospital.
Local health board officials say enhanced services could be provided at the proposed Llangollen health centre.
But one community leader said residents want in-patient beds reinstated in the town as some are being sent to a hospital 25 miles (40km) away rather than those closer due to bed shortages.
The board has been asked to comment.
Llangollen hospital shut in March as part of a controversial health care shake-up by Betsi Cadwaladr University Health Board (BCUHB).
Residents had been fighting to try to protect the hospital which served the community for almost 137 years.
Llangollen councillor Stuart Davies claims there still is a need for more hospital beds locally.
The BCUHB says it wants to hear residents' views on its plans for the new health centre earmarked on the site of the former River Lodge hotel.
Other services include community nursing and midwifery services, outpatient clinics, therapies, mental health care services and social care.
As well as GPs it could also be used by Denbighshire council social care and voluntary sector services as well as the health board itself.
Patient watchdog the Betsi Cadwaladr Community Health Council said it was pleased the health board's plans were moving forward and it was consulting with residents.
The plans are on show at Llangollen Town Hall on Tuesday between 15:00 and 18:30 BST.