Mold: New Daniel Owen Square design to be unveiled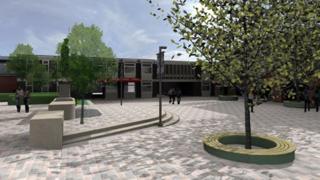 A design aimed at regenerating a Flintshire town centre square is to be unveiled.
Flintshire council says it has drawn up an "achievable" look for Daniel Owen Square in Mold.
Last year the town secured £100,000 to revamp the square as a public venue to host events and attract more visitors.
The proposals, which were drawn up after consultations in the town in January, go on display at the town hall from 15:00 - 21:00 BST on Wednesday.
Flintshire council leader Aaron Shotton said: "I would encourage people to come along on Wednesday to view these exciting designs.
"This is a great opportunity to bring the square up to date and raise the profile of Mold.
"I hope the square will be able to play more of a role to encourage and attract more visitors to shop and stay in the town."
Consultants have been commissioned to draw up plans to make Daniel Owen Square a focal point for Mold.
In December 2012, the town secured £100,000 in European funding for a revamp of the location.
It is not known if the current proposals are in addition to this funding.
Flintshire council said: "Revitalising this important public square is part of a plan to help regenerate Mold by attracting further investment, improving the visitor offer and making the town look nicer for all that use it."