Chris Coleman, Mickey Thomas play in Soapstar Soccerstar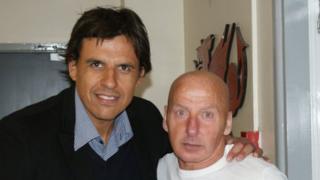 Wales football manager Chris Coleman and ex-midfielder Mickey Thomas have joined a "legends" team playing soap stars for charity in Wrexham.
Soapstar Soccerstar was at the Racecourse on Saturday afternoon.
The legends' line-up included Joey Jones and Clayton Blackmore. The celebrity squad included singer Gareth Gates and Emmerdale's Danny Miller.
Local beneficiaries include The Racecourse Community Foundation (RCF) and Hope Pre School Playgroup.
Each will receive 10% of funds raised, while the remaining 80% will go to the Once Upon a Smile charity, which was set up by actors Danny Miller and Daniel Jillings, supporting families who have suffered a loss through terminal illness.
The RCF promotes Wrexham FC and works with schools in north east Wales, while the playgroup is a charity offering pre-school education for children in Hope, Flintshire.
Coleman said: "It's a great cause, and it's important when we get a bit of free time to do things like this.
"It should be a great day and hopefully we'll get a few supporters here."
He last played at Craven Cottage for Fulham team about a month ago and admitted: "I played 45 minutes - that's enough for me."
Asked beforehand if he would complete 90 minutes on Saturday, he laughed: "No chance. It will be 45 minutes, then I will be carried off probably."
Former Wales star Mickey Thomas said before the game: "At my age it's great to come back and play a game. All the older players still think we can do it.
"There's been some dark days at Wrexham, but this is a great thing.
"I'll play half a game, I'm sure, and if I'm enjoying myself I'll carry on."
Organiser Chris Parry said he was hoping for a crowd of up to 3,000 people, adding: "If enough money is raised there's no reason why this can not happen again."
He added: "It will be played in good spirits and I have told the Welsh players there are to be no cricket scores."