Toppled Pontfadog Oak in Chirk moved off house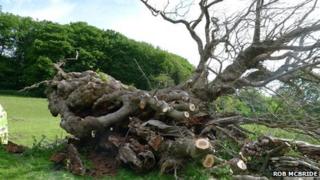 A 1,200-year-old oak tree which was toppled by strong winds and fell onto a house in Wrexham has been felled and moved.
Most of the Pontfadog Oak near Chirk, which legend says was a meeting point for a medieval Welsh prince, has been moved about 60m away into a field.
But its huge trunk which had a girth of 42ft 5in (12.9m) is still in place.
House and land owners Huw and Dianne Williams hope some kind of permanent memorial can be forged out of it.
"It's just a relief and a bit sad at the same time to see it go," said Mrs Williams.
She said a corner of the roof had been bashed by the tree when it collapsed in high winds in April, but they had now got to get builders and engineers to take a look at the damage.
They have lived at the property for 12 years but the house had been in her husband's family for generations and the oak was a famous tree in the valley, she said.
"We hope that something can be done with the trunk of the tree, perhaps a permanent memorial in the village. But it's all a matter of cost.
The removal of the tree had been due to be recorded for the BBC's The One Show, explained Rob McBride, who has been documenting the history of the Pontfadog Oak for about eight years.
"But events took over, the digger arrived earlier than expected and we had to get on with moving it," he said.
He said the extensive foliage of the huge tree had been moved about 60m away and was safe in a field until a permanent destination can be found either there or in the village.
Mr McBride said they were looking for funding to help with the move.
"It will provide a home for biodiversity for the next 100 years," said Mr McBride. "It was a treasure of a Welsh tree, a fine UK tree too and you wont find another one quite like this."
There are various theories about how old the Pontfadog Oak was, with some claiming it dated back to Roman times, said Mr McBride.
"But the figure of 1,200 years is one that is generally agreed on."
Welsh prince Owain Gwynedd is said to have met his troops under it in the 12th Century before defeating English king Henry II in battle.
Although the tree itself is now lost, it could be recreated in future.
Samples from the tree have been taken by institutions including the Royal Botanical Gardens Kew, with the aim of creating a genetic match for the Pontfadog Oak.