St Asaph flood report seeks £5m work to improve defences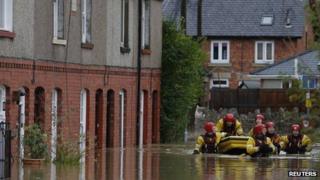 Flood defences were not as robust as expected to protect a Denbighshire city from being swamped, says a new report.
About 500 homes were hit and one person died when a river flooded St Asaph and other communities last November.
The findings of an inquiry said about £5m is needed to improve defences.
Denbighshire Council told BBC Radio Wales it wanted an urgent meeting with the Welsh Government to discuss flood prevention in the city.
Denbighshire council published its findings on Monday after an inquiry with support from Natural Resources Wales (NRW).
Parts of St Asaph at risk from a flooding event are now believed to carry an annual likelihood of a one in 30 chance, instead of one in 100.
A separate report into flooding on the new-build Glasdir housing estate in Ruthin is expected in September.
NRW is now investigating whether any short term interim measures could be carried out to reduce the risk of further flooding in St Asaph and other areas until a scheme, which could cost up to £5m, is put in place.
The report said: "In the case of St Asaph, flood modelling work carried out as part of the investigation has shown that the level of protection provided by the raised defences is considerably less than what had previously been understood.
"Instead of being defended against a one in 100 chance flood event, parts of the city are now believed to be at risk from an event with an annual likelihood of one in 30."
The report found that the flooding was caused by heavy, prolonged rainfall falling on saturated ground which resulted in water levels in the River Elwy that were higher than the flood defences were able to cope with.
The inquiry also looked into flooding at Ruthin, Denbigh, Corwen and a number of communities, including Rhuddlan, Llanbedr Dyffryn Clwyd, Glyndyfrdwy, Gellifor and Llanynys on November 26-27.
The report is due to go before councillors next week with recommendations for a revised flooding strategy which "reflects the lessons learned".
It also calls for a council policy on the use and distribution of sandbags and encouraging residents in areas with a high risk of flooding to consider installing individual property protection.
The findings are published on the same day Wales' Public Accounts Committee published a report saying the way the nation responds to big civil emergencies such as flooding needs to improve.
In response to that report, the mayor of St Asaph praised the response by all agencies involved when the city was hit by floods.
John Roberts said: "The one thing that has become obvious that wasn't there is the aftercare, the counselling required after a flood.
"You can remove the physical experience of a flood but it is the psychological scars that it leaves that you have to be very careful of."
The Welsh government said it was investing £180m in managing flooding and coastal erosion across Wales over the life of the assembly.
It is consulting on targeting communities most at risk.
"We are aware of the concerns from councillors in Denbighshire and Alun Davies, the Minister for Natural Resources, is happy to meet with councillors and Natural Resource Wales to discuss ways we can work together to help reduce the risk of future flooding in the county," said a spokesman.