Elfyn Hughes, 75, on curfew over Holywell assault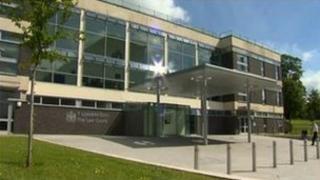 A 75-year-old man who grabbed a knife when he thought youngsters had thrown snowballs at his home has been given a tagged curfew order.
Elfyn Hughes, from Holywell, Flintshire, went to a neighbour's house and waved the knife around, Mold Crown Court heard.
He admitted affray, possessing a kitchen knife and assault.
He received an eight-month jail term, suspended for a year. He must stay indoors overnight for three months.
Judge Niclas Parry also made a five-year restraining order, under which Hughes is not to approach the complainants or go to their home.
"This was an inexplicable loss of control," the judge told him.
The court heard Hughes fed his pigeons every evening at 19:00 BST and the judge agreed the curfew could run from 19:30 BST to 08:00 BST.
"You will have a tag on your ankle. You and your pigeons will have something in common," the judge added.
"Don't break your curfew, don't lose your temper and don't re-offend."
The court heard Hughes grabbed a knife and went to a neighbouring house, waving it about.
He ran upstairs into the bedroom of a youngster who, terrified, jumped out of a window.
The court heard the youngster had not been throwing snowballs.
Hughes also thrust the knife at the boy's mother, but missed.
The court was told Hughes' victims felt he had acted out of character.