Wrexham Lager plans expansion over Titanic demand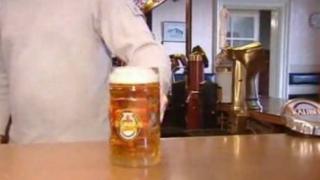 Brewers of a lager served on the stricken ship Titanic are planning to increase production tenfold because of growing export demand.
The recipe for Wrexham Lager, first brewed in 1881, was acquired in 2011 by a micro brewer, 11 years after it was ditched by producer Carlsberg.
Its owners say the 2012 centenary of the Titanic's sinking, boosted sales.
Plans for a brewery expansion have been submitted to Wrexham council with the promise of up to 20 jobs in the town.
From sales of 1.3m pints in 2012, brewer Mark Roberts says the aim is to reach 13m pints sold in five years.
German immigrants originally started brewing lager in the town in 1881.
It was the tipple of choice for Wrexham football fans, earning its own chant at the Racecourse ground.
After 120 years production of the drink locally stopped in 2000, being relocated to Leeds before being discontinued in 2002.
A group of local businessmen and former employees kick-started its revival.
The firm now supplies more than 200 pubs in north Wales and the north west of England and beyond.
Recently it has started bottling a stronger version of the beer for export with interest from Dubai, Australia and America.
Mr Roberts: "Sales at home are steady, but nothing spectacular enough for us to have taken such a leap of faith with the expansion."
"But abroad they can't seem to get enough of the stuff; we literally can't keep up with the orders coming in.
"There's two reasons I think. Obviously the Titanic link gave us a huge lift last year, but more generally Wrexham Lager has a romantic association with foreign climes, dating right back to when it was sold in India and Sudan, etc, in colonial times."
Mr Roberts said that in the past few days they had received a major order from Dubai, and that negotiations were underway to supply Wrexham Lager to a planned replica of the Titanic to be built in a Chinese shipyard.
Titanic sank on its maiden voyage from Southampton to New York in April 1912.