Historic Welsh language law document found in Parliament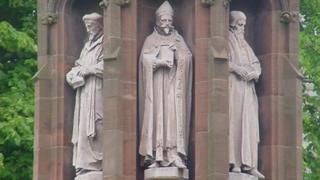 A 1563 legal document that helped protect the Welsh language has been found in the House of Commons archives.
Queen Elizabeth I introduced a law which required Welsh churches to hold Welsh translations of the Book of Common Prayer and the Bible.
Some historians believe the legislation protected the future of the language.
Vale of Clwyd MP Chris Ruane hopes copies can be put on show in St Asaph to honour Bishop William Morgan, who translated the Bible into Welsh.
Mr Ruane asked archivists to try to find the document after hearing of its importance.
Sixteenth century Denbigh MP Humphrey Llwyd helped to steer the bill through the House of Commons in Tudor times.
The law encouraged a translation of the whole Bible which was published in 1588 by Bishop Morgan.
Before that time the Bible in Wales was taught first in Latin and later in English which many Welsh people could not understand.
Denbighshire scholar William Salesbury also published a Welsh translation of the main texts of the Prayer Book.
The translations are said to have standardised the Welsh language and ensured its use continued.
Mr Ruane said he decided to find any documents relating to the act after attending a celebration at St Marcella's church, also known as Eglwys Wen, where Humphrey Llwyd is remembered.
The MP and civic dignitaries and historians from Denbighshire are due to see the document on Wednesday but none know what to expect.
"This may be the one of the first times it has been unfurled in 450 years," said Mr Ruane.