Direct rail link between Liverpool and north Wales urged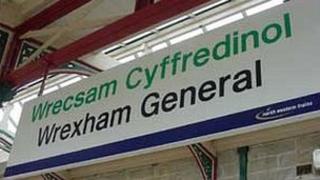 Direct rail links between north east Wales and Liverpool should be restored, according to a report calling for cross-border transport improvements.
North East Wales Integrated Transport Task Force has suggested rail and road improvements to and from Wrexham, Manchester and Liverpool.
The task force report said there was strong support for direct rail services to Liverpool, not seen since the 1970s.
Passengers from Wrexham currently have to change at Bidston or Chester.
The task force, set up by the Welsh government, said it also saw a need for new stations in north east Wales, or improvements to existing stations such as Hawarden Bridge.
Serving Deeside Industrial Park and northern areas of Wrexham, the report says the station connects residents with "training and employment opportunities".
The report said: "The rail modernisation business case should consider how frequencies of service and journey times within north Wales and to/from key destinations in the north west [of England] can be improved.
"We would encourage the provision of new stations and additional services that specifically serve major employment areas and help to tackle poverty.
"The task force strongly supports the need to improve frequency and line speeds on the North Wales Coast Main Line and the Borderlands Line.
"There is also strong support for the delivery of the Halton Curve to enable direct services to Liverpool ... from the study area."
'Much needed boost'
Clwyd West AM Darren Millar welcomed the task force report, saying there had not been a direct rail link between north Wales and Liverpool since the 1970s.
He said he would call on the Welsh government to take the issue forward.
"I have been campaigning for years to get a direct service between north Wales and Liverpool reinstated, so I am delighted that the task force have recognised the need to improve services to and from north Wales to the north west and particularly Liverpool.
"As a large commercial centre with strong links to north Wales, there is no doubt that improving the transport infrastructure between Liverpool and north Wales would provide a much needed boost to the economy, while shifting passengers from road to rail is also good for the environment."
An Arriva Trains Wales spokesperson said: "If reinstatement of the Halton Curve goes ahead, Arriva Trains Wales will work with the relevant authorities to explore the potential for further train services."