Airbus marks 1,000th A330 plane - with wings made in Broughton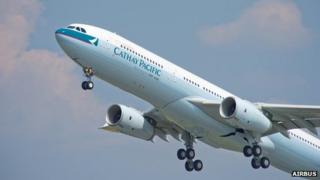 Airbus is celebrating delivering its 1,000th A330 plane, with wings manufactured in Flintshire
The aircraft was handed over to the operator Cathay Pacific Airways at a special ceremony at Airbus's headquarters in Toulouse, France.
Wings for all Airbus civilian planes are made at its factory at Broughton, which employs 6,000 people.
The site makes 1,000 wings a year - including for the giant A380 capable of carrying over 500 passengers.
"It is of particular importance for us to be celebrating this 1,000th A330 delivery milestone with our long-standing partner Cathay Pacific Airways," said John Leahy, Airbus chief operating officer.
The A330 plane is now in service with more than 100 air operators, with 1,250 ordered since its maiden flight in 1992.