Betsi Cadwaladr health board accepts mismanagement report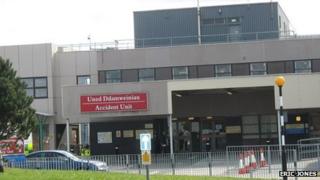 The board of Wales' largest NHS organisation has fully accepted a highly critical report into its mismanagement.
Watchdogs identified a catalogue of problems at Betsi Cadwaladr Health Board (BCUHB) in north Wales.
The chair and chief executive stepped down after the report found a breakdown in their relationship contributed to the failings.
The board now aims to regain the confidence of staff and stakeholders.
The investigation by Healthcare Inspectorate Wales and the Wales Audit Office strongly criticised BCUHB which runs £1.2bn of health services.
It identified other issues of concern, including:
Management failings, which are contributing to significant risks with hospital infections such as c.dificile being under-reported.
Big financial problems with the health board managing to avoid overspending sometimes only by delaying operations and letting waiting lists get longer.
Bosses failing to plan ahead for big changes that are needed to hospital services with no clear plan for which services might be cut or reorganised.
At a meeting at Wrexham Maelor Hospital on Thursday, health board members approved a 14-page document accepting the report's recommendations.
An action plan to deal with the problems was also set out.
The setting up of a "governance and leadership delivery team", chaired by the chief executive of another health board from outside north Wales, is one of the measures.
'Positive'
It will also look at patient safety and improving the way the board is run and communication with staff.
The document says: "The board accepts that, to serve the communities of north Wales more effectively, it needs to improve governance, leadership and management arrangements".
"The board is aiming to regain the confidence of staff and stakeholders, which has inevitably been damaged as a result of the content of the report."
The meeting was chaired by Prof Merfyn Jones, who said when the report was published that he will be stepping down as soon as his replacement as board chairman can be appointed.
He called the board's response "an important and a positive" document.
He added: "But it's a difficult thing to swallow that it's taken a crisis to get to this point. Many of us could have written this document a year ago."